Pan-Florida Challenge
1 in 4 children go hungry in Florida.
Tommy T. is a poor, 7 year old boy from Immokalee, FL. Tommy wakes up every Sunday morning to a dull ache deep in his belly. By the time he's fully awake, that ache has grown to a knife, a stabbing pain that just doesn't go away. Tommy hasn't had anything to eat since he left school on Friday. Without any prospect of food before the next school breakfast on Monday, Tommy has a long day and night ahead of him. Ashamed to tell anyone. Tired of opening and re-opening the empty refrigerator. He sulks all day, looking out the window, trying to ignore the pain in his stomach. Trying to think of anything other than food. Praying someone will come along to help.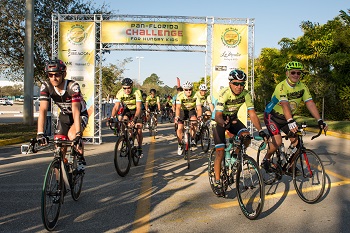 Pan-Florida Challenge (PFC) is a charity on a mission to help Tommy and to end childhood hunger in Florida, one meal at a time. After eating breakfast and lunch at school during the week, 1 million Florida children just like Tommy go home on Friday without enough food to sustain them over the weekend. Each Friday, we give these children PFC Power Packs TM, weekend backpack meals to stave off hunger for the weekend.
The genesis of PFC began with the 2014 Ride for Hunger, a 360-mile, 4-person relay ride across Florida that raised $44,000 and fed 134,000 meals to hungry kids in Haiti through Help for Haiti. Modeled on the Pan Mass Challenge, which raised $47 million in 2017, our sights are set high. Since 2015, we have provided over 4 million meals to hungry children.
We are a 501(3)(c) Florida nonprofit, governed by a volunteer board of directors, Through an extensive network of food distribution partners, schools and child care providers, sponsors and supporters, we intend to educate and engage as many people as possible until there are no longer any hungry children.
#IfIRideTheyEat