Tips
PFC relies on riders, virtual riders, and corporate sponsors to meet our annual fundraising goal. Remember, the more we raise, the more children we feed. Here are some of the tools, tips, and suggestions we have for you to meet your fundraising minimum.
Phone Calls
The best way to engage your friends and family is with a personal phone call to let them know what you are doing - "I'm riding in order to feed the thousands of hungry kids who do not know where their next meal is coming from 1 in 4 kids go hungry in Collier County alone! In Lee County, 1 in 3 children go hungry. Will you support my ride with a small donation?"
Email works the hardest
Here are draft emails you can personalize and send directly from the Participant Center. Add Contacts and press send. Then check back to your fundraising campaign page to see the results and warm well-wishes coming in from your friends and contacts. Hyperlinks to draft emails.
Fundraising Parties
Consider hosting a party to let your friends and family know about your ride. This is a good way to get many people together at once. Many riders live in communities that support charitable endeavors. Last year, one rider hosted a concert gathering where she played guitar. Another rider made a presentation to his homeowners association HOA. Host a brown-bag lunch in your workplace to educate people about the epidemic of childhood hunger. Put a giant container of peppermints or chocolate bars from the local warehouse store on your desk and charge $2-$5 each. Be creative!
Use Social Media
Link your personal PFC page to your favorite social media apps.
Add a Cool Signature Line to all your personal email
Below is a template to use as your email signature. You can add it automatically to your emails by going into your email settings and modifying your gmail or hotmail signatures. You also can insert your fundraising page link in the highlighted area and copy and paste at the bottom of your emails.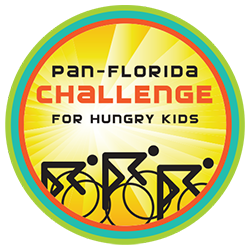 On March 10th I'm riding my bike in the Pan-Florida Challenge Ride for Hungry Kids. Rider raised funds directly support meals for hungry kids. To donate to my campaign and support my efforts to feed kids, please visit:
My Personal Page (Link will point to your actual Personal Page if you are logged in!)

Text Message. Super Personal and Instant Reactions.
It is easy to cut/paste your link from your phone browser into your text messaging app.
Or, email your fundraising page link to yourself, open the email on your phone, and then copy/paste that link into a new text message.
Next add one sentence see sample below. Then add contacts. This works best if you send the text to no more than 2-3 people. It is better still to send it to ONE person. Then click on the text blurb, click forward and add the next person you want to share the text with. This is FAST and lightweight and generates immediate response.
TEXT: Hi! I'm up to something good you would like - wanted to share with you. I'm riding my bike the weekend of March 10th. Why on earth? To feed meals to hungry kids. Want to help me? You can! Click here>> My Personal Page (Link will point to your actual Personal Page if you are logged in!) Even $5 will help feed kids 1:4 go hungry in Florida! Thanks for your support!
Share your training progress and your people will be moved!
Email/Post to Facebook blurbs with a photo or map of your training ride route! Add words about the effort you are undertaking right now to train for the ride. Share your personal experiences (Woke up at 7am, rode for 4 hours again beautiful sunrise! Or cold rain!) This helps your friends and colleagues empathize with you! You are giving them the chance to share in your experience without having to ride their bikes themselves! This helps spur donations. As people see all the hard work you are putting in, they will support you with repeat donations.
Here's a great example from our PFC Rider Carl!